Pick Rock from the Seat of your ATV with the Marshall Picker
As farmers we know what is likely on your mind these days; getting those rocks cleared before the plants start popping up. When it comes to running the farm operation your top priorities are getting things done efficiently, while keeping the farm and financials in check. The last thing you can afford is the time and cost if your machinery breaks down because it hit a rock when you are combining the corn and beans.
When you need the right equipment to get all of the rock picking done, the Marshall Picker can't be overlooked. Along with your ATV, The Marshall Picker can help give farmers like you time to get all your picking done before planting and again when harvest rolls around.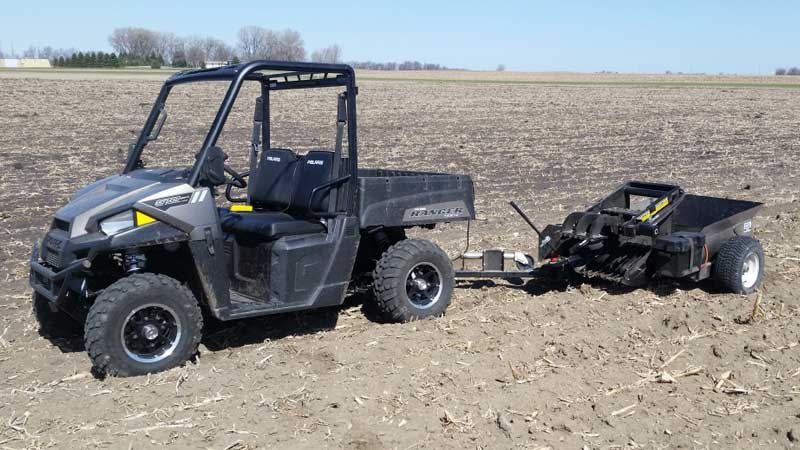 Attaching to the back of your ATV or UTV, this hydraulic-powered picker can pick rocks off a field without you ever leaving the driver's seat. Its 12-volt hydraulic system plugs into the ATV battery, meaning you don't have to worry about separate fueling or charging.
The Marshall Picker can be configured to straddle 15, 22, or 30-inch rows. It can pick rocks of two to 15 inches with ease and can even handle larger rocks if angled correctly. (Incorrect positioning could cause larger rocks to damage the rake or reel sweep, so keep an eye on it.) The bin has a mesh bottom that allows finer particles to fall through making clean up a breeze.
The bin can support up to 2000 lbs. of rocks, though to handle full capacity, the ATV should be strong enough to pull it. When empty, the Marshall Picker weighs 680 lbs. It's supported by highway use tires and can be towed (to and from the field) at highway speeds.
A Rock Picker for ATVs That's Easy to Use
The Marshall Picker is operated with a four-button pendant controller. Two buttons control the picking feature, while two others control the up/down of the hopper.
With the picker positioned at a certain angle behind your ATV (field position), you just need to drive alongside a rock for the picker to be able to scoop it up. The machine is fitted with two sets of revolving forks that act as a rake, which you can command to collect large or small rocks.
The pendent controls and fully automated picking/dumping processes mean that the machine can turn rock picking into a solo job. And because of its relatively light weight, sturdy build, and versatile tires, the Marshall Picker is easy to move around both on the field and off it.
You can see the Marshall Picker in action here:
With a specialized machine such as this ATV rock picker sitting in your farm yard, you'll find yourself clearing fields faster but also more thoroughly. With the Marshall Picker, you'll increase rock picking efficiency by 50% and eliminate the trouble of looking for temporary hands when rock picking season comes around. You'll have more time and resources to invest in other tasks around the farm.
Want to learn more about how the Marshall Picker can make your farming operation more efficient? Click Here To Contact Us