Getting to Know the Marshall Picker Rock Picker
The Marshall Rock Rock Picker is easy to use and with care and attention will provide years of service to you and your farm. You'll love the responsiveness of the Marshall Picker, speed and power to haul rocks season to season. Expect to see an increase of 50% productivity on your farm! Watch a video of the Marshall Picker here and get to know the Marshall Picker through our Tips below.
Safety on the Farm
Farm work is tough and safety is on the top of the list. Good safety practices protect you, but also the people around you. This applies to machinery, from assembly to use.
Remember, most accidents can be prevented with simple steps to practice safety.
if this machine is used by an employee or loaned or rented to others, it's important that you and any other operator is clearly instructed in safe and proper use of the Marshall Picker. Have them review our manual.
Remember these Important Safety Tips
NEVER make any adjustments, lubricate or perform any service on the machine while it is in operation.
NEVER run machine into buried rock in an effort to dig rocks. Pry rock loose first. This machine is not designed to dig rocks. To do so would void warranty. •
Do not overfill rock box. Fill only to the capacity your ATV/UTV can handle.
Protective clothing and equipment should be worn.
Wear clothing and equipment appropriate for the job. Avoid loose fitting clothes.
Learn more about Farm Safety from Successful Farming.
The Handheld Control
Read the operator's manual for the ATV/UTV to become totally familiar with the controls and instruments. Know how to stop all equipment operation in case of emergency. Review the Handheld Control diagram and you'll see how easy the controls are to use.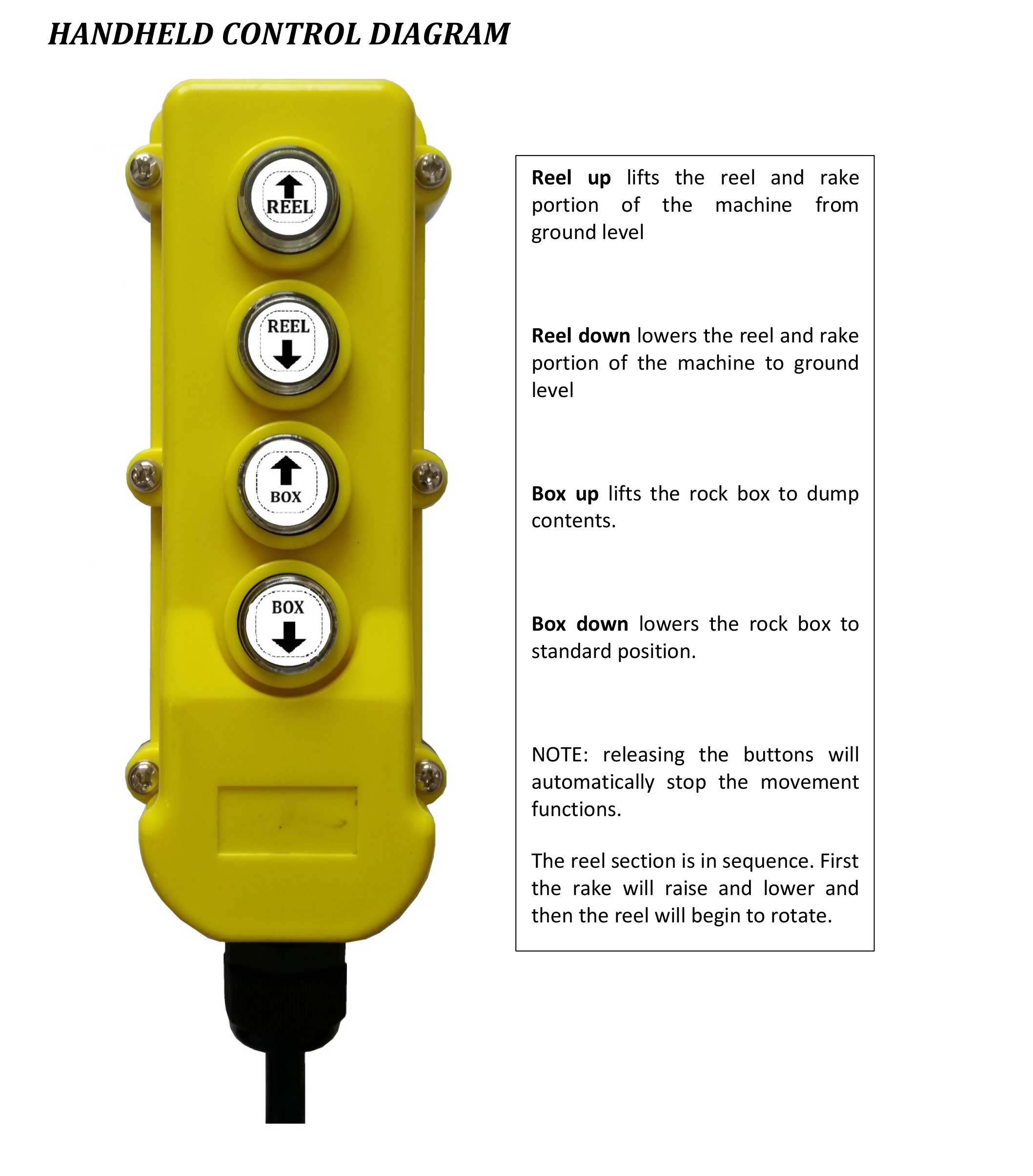 Before Operating Your Marshall Picker
Before operating your Marshall Picker you'll want to take time to check your connections.
After receiving your Marshall Picker, take time to double check the entire machine so that all bolts are securely tightened. Recheck after 2 and 8 hours of operation.
Make sure all grease fittings are in place and greased properly.
Inflate tires to recommended inflation pressure and check wheel bolts for tightness
Take time once the machine is hooked to the ATV/UTV to assure the hitch is securely fastened and the cord from the handheld pendent is not dragging the ground.
Marshall Picker Assembly Instructions
Some Marshall Pickers may arrive needing the hitch bar and wheels to be assembled to the main unit. When you purchase a Marshall Picker we'll talk to you about the equipment you're attaching the Picker to and we'll have talk about the ATV/UTV hookup you're using, and we'll talk about the weight and power of your gear.
Your ATV/UTV Hook Up
A 12v DC hook up connection is needed to maintain the deep cycle battery on the
Marshall Picker. Customer will be responsible for hooking up the ATV/UTV end of the 12v supply. Only the ATV/UTV connector end is provided. All wiring should be installed by your ATV/UTV dealer.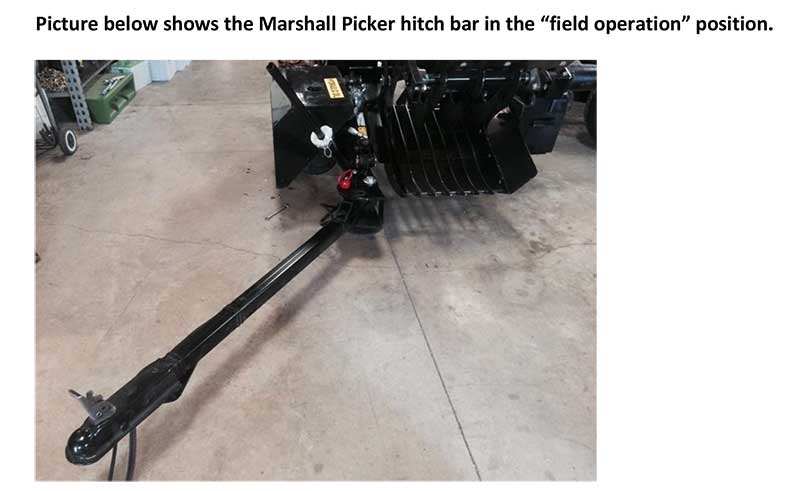 Photo below shows the Marshall Picker hitch bar in the "transportation" position. Used when moving on roadways or loading.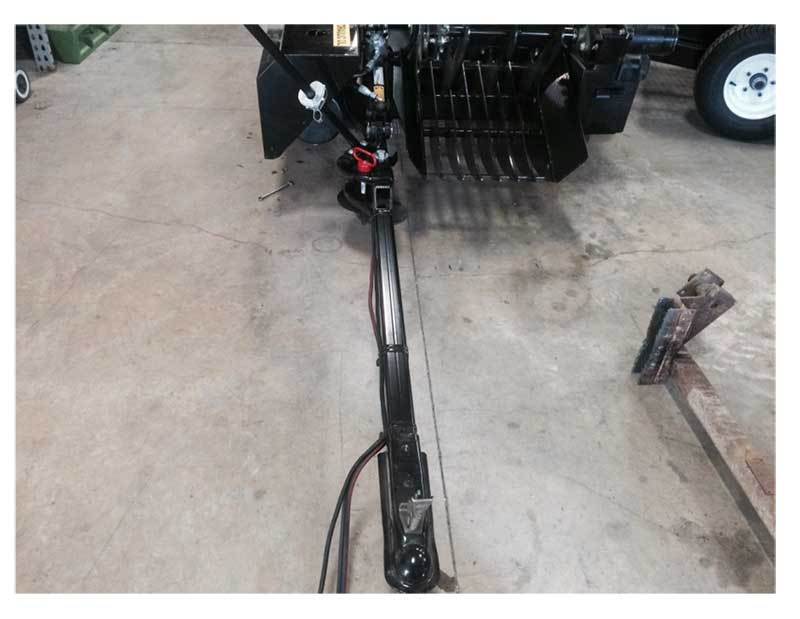 Marshall Picker Maintenance
For regular maintenance and service we recommended changing the hydraulic oil once a year and greasing both reel bearings after every week of use.
Partner with Marshall Machine Shop
Contact us to find out more about our equipment. We'll work with you and find out what your needs are. We are continually developing our own equipment and appreciate your feedback!
We offer a one-year warranty on all parts and components. Want to give the Marshall Picker a try? Contact Us and we'll get you all the details.